St8 and Booming Games: A Partnership Set for "Booming" Success
In a thrilling announcement that's set to reshape the iGaming landscape, St8 is excited to unveil its strategic collaboration with Booming Games, a name synonymous with top-tier gaming experiences. This partnership is not just about games; it's about delivering a new era of entertainment that transcends boundaries and elevates player engagement.
Since its inception in 2014, Booming Games has been a trailblazer in the industry, consistently pushing the envelope of innovation. Their diverse portfolio of uniquely themed games is a testament to their commitment to catering to the broad spectrum of player preferences. Among their standout titles are the acclaimed Burning Classics, Cash Pig, TNT Bonanza, Buffalo Hold and Win, and Gold Gold Gold, each offering a unique blend of immersive gameplay and cutting-edge features.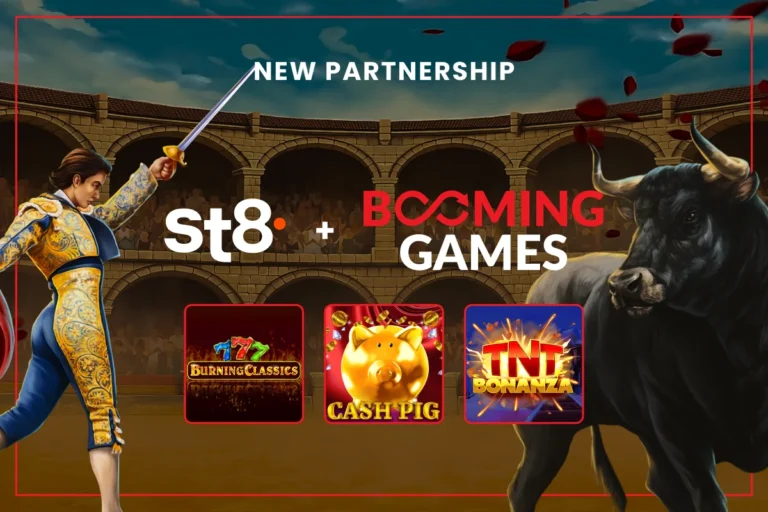 Vladimir Negine, CEO of St8 said: "Partnering with Booming Games signifies a thrilling new chapter in our iGaming story. This collaboration harmonizes St8's pursuit of excellence with Booming Games' innovation, promising an unmatched gaming experience for players"
At the core of this partnership lies the shared values of both St8 and Booming Games: a dedication to excellence and a passion for delivering unmatched entertainment. Booming Games' games are meticulously crafted entirely in-house by a team of seasoned experts, ensuring that each title meets the highest standards of quality and innovation. 
Frederik Niehusen, CCO of Booming Games commented: "We are absolutely thrilled about this transformative partnership with Booming Games. The fusion of St8's commitment to excellence and Booming Games' trailblazing innovation promises an unparalleled gaming experience for our players. This collaboration marks a pivotal moment in shaping the future of iGaming, and we couldn't be happier to embark on this journey together."
Aaron Axisa, Head of Sales at Booming Games added:  "I am immensely proud to have brought the synergy between St8 and Booming Games to life. Witnessing our joint vision take shape has been truly inspiring. This partnership stands as a testament to our dedication to delivering unparalleled value to our players. "

But this partnership is about more than just exceptional games. It's about providing players with a seamless gaming experience. Through seamless wallet integration, API-powered interactions, and a transfer wallet that streamlines transactions, players can now immerse themselves in a world of entertainment without hassle.
Booming Games' impressive journey, which includes prestigious licenses from the MGA, the Swedish Gambling Authority, and the UK Gambling Commission, coupled with their collection of industry awards, attests to their position as an industry leader. Their consistent pace of new releases, averaging every three weeks, showcases their commitment to staying at the forefront of innovation and player satisfaction.
As St8 integrates Booming Games into its platform, players can anticipate a revolution in iGaming. This partnership marks a turning point in the industry, where excellence meets innovation, and entertainment knows no bounds. Get ready for a new era of seamless gaming experiences, powered by Booming Games' exceptional titles, as we collectively embark on a journey of excitement and endless possibilities.
Want to know more? Have an amazing idea? Superb. We'd love to hear from you.