BGaming Joins St8 for iGaming Brilliance!
St8 is thrilled to announce a strategic partnership with BGaming , an innovative and rapidly expanding iGaming content provider. This collaboration represents a significant step forward in St8's relentless pursuit of delivering top-tier entertainment experiences to players across the globe.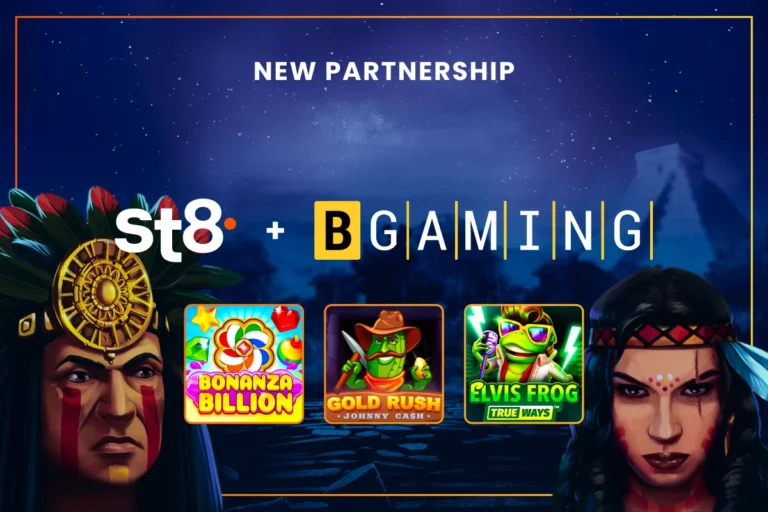 Founded in 2012, BGaming has steadily evolved into a creative powerhouse since the birth of its BGaming brand in 2018. With a portfolio that boasts over 100 meticulously crafted products, including video slots, casual and dice games, online roulette games, card and lottery games, BGaming has secured its position as a frontrunner in the industry. What truly sets BGaming apart is their ability to blend cutting-edge visuals and mathematics with rich gameplay and unexpected features.
Alex Zvezdochkin, Head of Operations at St8 commented: "Embracing creativity and innovation has always been at the heart of our journey, and partnering with BGaming is a testament to that spirit. Their mastery in crafting vibrant slots perfectly complements our commitment to delivering unforgettable gaming experiences. Together, we're set to redefine entertainment and bring a new level of excitement to players worldwide."
BGaming's approach to creating new games revolves around a keen understanding of player preferences, a focus that is tested through rigorous trials with real players. This meticulous process ensures that each new game resonates with audiences on a deep level. Additionally, BGaming's introduction of the "provably fair" feature in online slots, a first among major iGaming providers, solidifies their commitment to transparency and integrity.

"I'm thrilled to welcome this partnership, which aligns with our vision of delivering excellence in gaming entertainment. Through this collaboration, our captivating games will be seamlessly integrated into the casino aggregator's platform, granting St8's clients access to our expansive range of titles. We're confident that this synergy will lead to reaching even more players worldwide and solidify BGaming's position as a driving force in the industry" stated Olga Levshina – Head of Sales at BGaming
The recognition received by BGaming is a testament to their unwavering commitment to excellence. Achievements such as winning "The Best New Slot" at AskGamblers Awards 2023 and earning the title of "Slot to Watch 2023" at CasinoBeats Game Developer Awards 2023 further solidify their status as frontrunners in the industry.
As St8 and BGaming unite their strengths, players can anticipate a seamless blend of creativity, innovation, and player-driven design streamlined via St8 seamless and transfer wallet APIs. This partnership is set to bring BGaming's exceptional games to St8's platform, elevating our offerings to new heights and ensuring players experience unparalleled entertainment.
Stay tuned as we introduce BGaming's remarkable games to our platform. The future of iGaming is about to undergo a remarkable transformation, and together, we're poised to usher in a new era of gaming excellence. Prepare to explore a world of creativity, gameplay, and innovation like never before.
Want to know more? Have an amazing idea? Superb. We'd love to hear from you.