Unlock Big Wins with Us: St8.io Jackpot API is Live!
In the dynamic realm of online casinos, staying at the forefront of innovation is key. St8.io proudly announces its latest breakthrough: the seamless integration of the Jackpot API, an exceptional addition revolutionising the player experience. Jackpots have always been a powerful marketing tool, and with the Jackpot API, the potential for engaging campaigns and thrilling player experiences is limitless.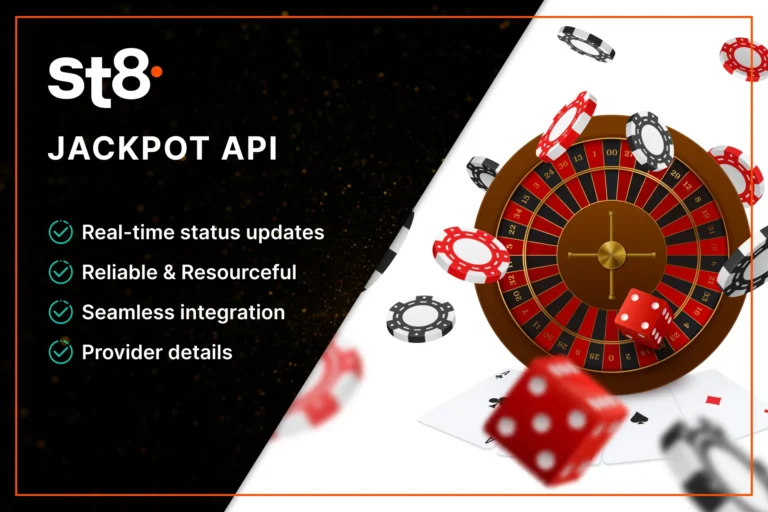 The integration of the Jackpot API by St8 is designed to be effortlessly smooth, ensuring a hassle-free experience for both operators and players. This API is a testament to our commitment to simplifying complex features, making them easily accessible and enhancing the player engagement on our platform.
What sets the Jackpot API apart is its remarkable flexibility. It supports not only network jackpots but also allows operators to implement individual arrangements with suppliers seamlessly. Real-time functionality adds an element of excitement for players, making the gaming experience all the more dynamic and immersive.
St8.io Jackpot API empowers retention
With Jackpot API that comes with our casino games aggregation platform, the possibilities are boundless. We empower operators to create and integrate any jackpot offering that a supplier can provide to a casino. This feature is not just about jackpots; it's about unlocking a realm of opportunities for both players and operators. The Jackpot API opens doors to a plethora of opportunities for player acquisition and retention, elevating marketing strategies to new heights. It's a win-win situation that amplifies the thrill for players while boosting engagement for operators.
At St8.io, we're committed to driving innovation and pushing boundaries to enhance the online casino gaming experience. The Jackpot API along with our casino games aggregator, is a testament to this commitment, offering a seamless, flexible, and real-time integration that empowers operators and captivates players. Join us in this journey as we redefine the landscape of online casinos through cutting-edge technology and player-centric features.
Ready to take your casino's jackpot experience to a whole new level? Connect with St8.io and explore the endless possibilities the Jackpot API brings to the table.
Want to learn more?  Reach out to us 👇
Want to know more? Have an amazing idea? Superb. We'd love to hear from you.